SEPT.29, 2017 OUR GROUP 23 OF MORNING HOTSHOTS
DAILY
Only One Tool 
From: "Availing yourself of a sponsor"  
An A.A. sponsor is not a professional caseworker or counselor of any sort. A sponsor is not someone to borrow money from, nor get clothes, jobs, or food from. A sponsor is not a medical expert, nor qualified to give religious, legal, domestic or psychiatric advice, although a good sponsor is usually willing to discuss such matters confidentially, and often can suggest where the appropriate professional assistance can be obtained.  
A sponsor is simply a sober alcoholic who can help solve only one problem: how to stay sober. And the sponsor has only one tool to use – personal experience, not scientific wisdom.  
Sponsors have been there, and often have more concern, hope, compassion, and confidence for us than we have for ourselves. They certainly have had more experience. Remembering their own condition, they reach out to help, not down.
1998 AAWS Inc.
Living Sober page 27
======================================
Vernon Howard's SECRETS OF LIFE 
"One of the last barriers to fall is the pretense of knowing what
one really knows nothing about. Pretense is one of the strongest
cronies of self-sickness."
A Treasury of Trueness, # 197
===================================
DAILY REFLECTIONS SEPT. 29, 2017
Practical experience shows that nothing will so much insure immunity from drinking as intensive work with other alcoholics.
— ALCOHOLICS ANONYMOUS, p. 89
Sponsorship held two surprises for me. First, that my sponsees cared about me. What I had thought was gratitude was more like love. They wanted me to be happy, to grow and remain sober. Knowing how they felt kept me from drinking more than once. Second, I discovered that I was able to love someone else responsibly, with respectful and genuine concern for that person's growth. Before that time, I had thought that my ability to care sincerely about another's well-being had atrophied from lack of use. To learn that I can love, without greed or anxiety, has been one of the deepest gifts the program has given me. Gratitude for that gift has kept me sober many times.
From the book Daily Reflections
Copyright © 1990 by
Alcoholics Anonymous World Services, Inc.
==============================
"
The more power one gives to his thought–the more completely he believes that his thought has power–the more power will it have." 
― Ernest Holmes, The Science of Mind
To meet everything and everyone through stillness instead of mental noise is the greatest gift you can offer to the universe.
ECKHART TOLLE
 Wow! Has my attitude changed.
Anonymous

"You sit here for days saying, This is strange business. You're the strange business. You have the energy of the sun in you, but you keep knotting it up at the base of your spine. You're some weird kind of gold that wants to stay melted in the furnace, so you won't have to become coins."
― Jalaluddin Rumi
A COURSE IN MIRACLES INSIGHTS

ACIM Workbook Lesson 273 Insights
"The stillness of the peace of God is mine."
The inner guidance of the Holy Spirit is there for all of us and the way we open to it is by owning what is truly ours. The stillness of the peace of God is truly ours to own and be. Through this peace we are led very gently to an awareness of our true Identity. Being willing to own up to what is truly ours takes a letting go of what is not ours in truth. The ego is not our true identity, even though we may have chosen this thought system for a while. It just makes a false sense of an individual self that could never be.
The Holy Spirit will always show us how to move past disturbances of the mind and return us to the peace of God. Today my job is to open to the peace of God by holding the Holy Spirit's hand and being willing to be led. I have chosen wrongly and now I would undo that choice. And I would accept Holy Spirit's help in leading me out of my belief in separation. The stillness of the peace of God is mine.
God gave all of Himself to His extension, His Son. That means His Will is that His Son have His peace. God's peace is my inheritance. It belongs to me because God Wills that it is mine. Since this is so, I must be worthy of God's peace.
In this world, disturbances come in many forms. They may be emotional reactions to the words, actions or circumstances I perceive outside of me. They may be my own judgments about what I have said or done. They may appear in the form of misfunctions of body parts, which we call illness. Even minor aches or discomforts are disturbances of God's peace, and thus can be answered with the statement, "The stillness of the peace of God is mine."
We are worthy of the stillness of the peace of God, for that is God's Will. Today I will practice being mindful of my level of peace. Each time I recognize a disturbance in any form, I will remind myself with certainty, "The stillness of the peace of God is mine." I will know His peace as I remember my deep abiding Love for my Creator.

© 2003, Pathways of Light. http://pathwaysoflight.org
You may freely share copies of this with your friends,
provided this copyright notice and website address are included.
=================================
In the state of love, no matter what you do, it's going to be good. 
============================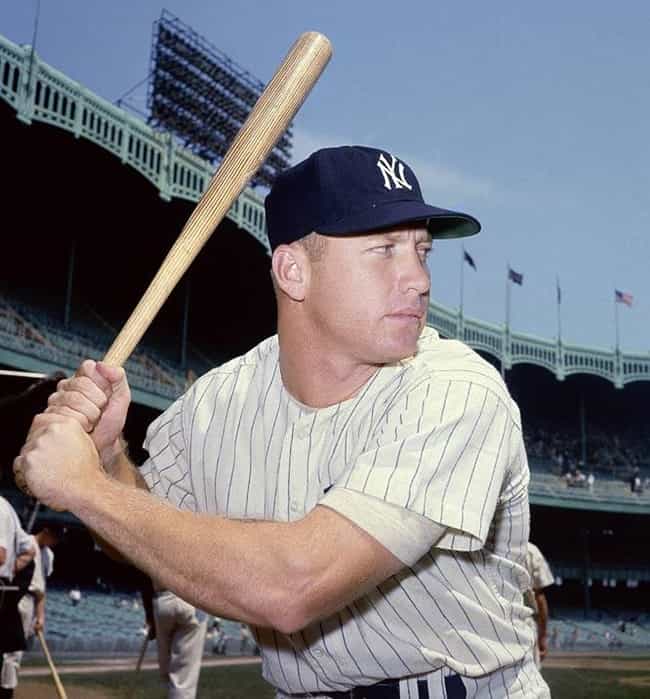 Cause of Death: Alcoholism
Mantle, a 20 time All-Star baseball player who spent his entire career with the New York Yankees, noted after his career had ended that alcohol had hurt him both personally and professionally. Towards the end of his life, he required a liver transplant because hepatitis and cirrhosis (as well as cancer) had rotted his liver. Despite a successful transplant, the cancer spread and defeated Mantle on August 13, 1995.
More About
Age: Died at 64 (1931-1995)
Birthplace: Spavinaw, Oklahoma, United States of America
Profession: Baseball player
Place Of Death: Dallas, Texas, United States of America
Credits: The Match Game, Safe at Home!, Baseball Tips for Kids of All Ages, Diamonds on the Silver Screen
Also Ranked
#6 on The Greatest Baseball Players of All Time
#3 on The Greatest New York Yankees of All-Time
#4 on The Best Hitters in Baseball History
#12 on The Best Players in the Baseball Hall of Fame
see more on Mickey Mantle============================